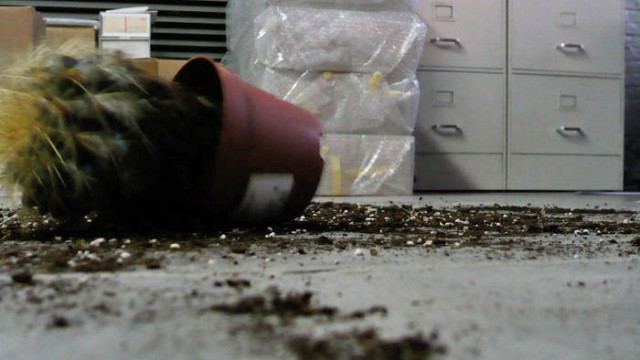 |'kaktəs|- experimental intermedia
Video screening at the EI window gallery – program
|'kakt_s|
Beatrijs Albers & Reggy Timmermans – Video installation, 4 monitors, loop, color, no sound – non stop screening
L'installation in situ |'kakt?s| met en scène, via quatre télévisions placées verticalement déposées à l'avant des deux vitrines de la maison du centre EI Huis Experimental Intermedia de Gand, un cactus, écrase sur le sol, détourné de sa fonction décorative, filmé dans des conditions de luminosités flirtant avec l'emploi qui est fait de la lumière dans la codification télévisuelle et cinématographique.
The site-specific installation |'kakt?s|, consists of four televisions placed vertically in the two windows of EI Huis Experimental Intermedia in Gent and shows a cactus, crushed on the ground, stripped of its decorative qualities and filmed with an lighting that flirts with the codes of television and movies.
De in situ installatie |'kakt?s|, bestaande uit vier verticaal geplaatste monitoren in de twee vitrines van EI Huis Experimental Intermedia in Gent, zet een omgegooide cactus in scène, ontdaan van zijn decoratieve functie en geregistreerd met een belichting die flirt met de codes van televisie en film.